So often, when I photograph kids, I think back to when my husband and I took our own youngsters to cookie cutter studios and what a disaster it was. Before I knew how to photograph children, I trusted these places to find a way to get great photos out of my kids. I think I had an instinct that trying to get my super active kiddos to stand still on a red dot and look at the camera AND smile naturally was going to be as likely as Publisher's Clearinghouse showing up at my door with a giant cardboard check, but we tried. I'm not sure who it was harder on...the kids, the photographer or my husband and me. My kids first photo shoots were a lot more like war than play. To be honest, I'm glad I at least have these photos, since I was in my own infancy of learning how to photograph people of all sizes.
Fast forward to today. I shoot with natural light, so I don't need a red dot. I've learned that 4 year old boys never, ever, ever stand still and smile naturally...ever! So when my good friend Susie asked me to photograph her son Tyler, I knew going in he was going to want to play. Game on! It was my job to capture that spirit. Those first shy looks, wondering if it was okay. The mischievous looks when we wrestled around with my reflector. The curious journey to find more bunnies. I needed to see the tentativeness and the all out ebullience and capture it all.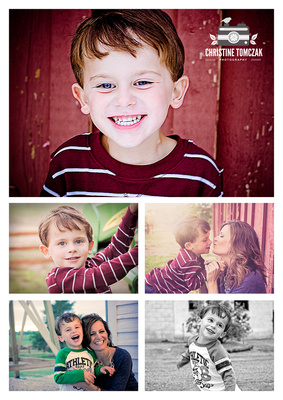 Tyler has the most infectious, happy laugh. He is a little powerhouse of energy, curiosity and playfulness. While a still photograph can't fully capture that, I hope that when Susie sees the pictures of him laughing she can hear it. I certainly did while I was editing them. I know that every one who sees these pictures can feel that joy of being a 4 year old boy at play. Tyler didn't want to stand still and I respected that. He wanted to play on the John Deere tractors at the location we picked. Were they an ideal "backdrop"? Who cares! Neither he or Susie will remember these pictures as a fight to be perfect. Tyler was himself, which is pretty perfect in my book.