I suppose it figures that I'd start a photography project and then have trouble coming up with the first shot! This shot almost made the cut. Almost.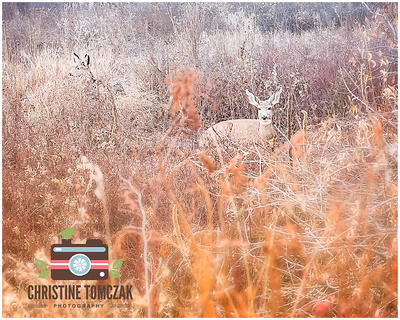 A few minutes before sunrise, I ventured out with Ivy to try and catch the reflection of sunrise in a pond near our house. Unfortunately, there weren't any clouds in the sky to catch the colors of sunrise and the pond was frozen. I'm not one to completely give up, so we took a little walk in the freezing cold to see what we could find. Not far from the pond, we stumbled upon this little family of deer. Cursing myself for bringing my wide angle prime, I tried to get as close as I could without startling them. (That's why you see so much grass in front; I was crouched down pretty low). Ivy was thrilled that I got these shots, and I was glad I got SOMETHING. But it wasn't quite enough.
Which brings me to my photography lesson learned for you. Don't stop shooting. If the lights not right, or you didn't quite get what you want, keep trying. I could have decided this was good enough for week one, but I wanted something a little more personal. So I kept looking for the shot that spoke to me. If you're on vacation and you don't quite nail it, try again. Sometimes, something really is better than nothing. If I hadn't gotten anything else, I would have gone with this picture, happy for the memories of hanging with Ivy and how excited she was that we saw the deer.
Ultimately, it was close...but no cigar.